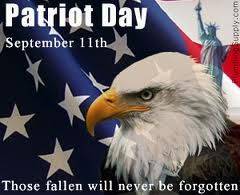 After 9/11 this day was set apart for US citizens to remember those that died on this day in 2001. But we must now also include those killed and wounded since that fight began. Here are some horrific numbers that our dear sons and daughters have suffered since, and it breaks my heart to list them!
Nearly 7,000 U.S. men and women have lost their lives in Iraq and Afghanistan in the last decade.  Over 50,000 have been wounded. 16,000 are "severely wounded" and will need life-time care.  1,700 major limb amputations have occurred. Over 1,900 have suffered genital wounds from roadside blasts. 43,300 have brain injuries. And the V.A. is seeing more than 4,000 PTSD cases a month, although most go unreported because of the stigma attached to it.
This generation has suffered much in the last decade and more. The cost for providing the necessary ongoing medical care for these veterans could soar to over a trillion dollars. However, no monies have been set aside for this eventuality. The payment for these costs is decided upon by Congress each year. And as history has taught us, as each year passes from the end of these wars the likelihood of Congress appropriating this money will become less and less.
Frankly, I never supported either of these wars. And still today I cannot see what we gained from requiring our nation's youth to pay such a extreme cost. But our valiant men and women in our Armed Services did pay this price, and now we all must live with that reality.
Patriotic Hearts, the 501c3 non-profit that also provides HirePatriots.com, is dedicated to advocating for and assisting these American patriots in every way that they need. We focus on the healing of their mind, spirit and relationships. And through our HirePatriots program we also provide gainful employment. Addressing their severe medical needs is beyond our ability. Although we will always keep a close eye on our government and do what we can to not allow them to fail in their moral commitment to these veterans.
It is a simple principle: If we choose to send our military into war then we must accept the responsibility of taking care of them. It is a national obligation. And here is a simple but very powerful thing that many of us can do:
Work is therapeutic. It can heal the body, mind and spirit. HirePatriots.com is a unique site that provides a job board for US residents to hire our veterans too. Whenever you need help with chores or repairs around your home or yard, give the job to a local soldier, sailor, Marine, coastie, guardsman, or reservist. They need the money to pay bills. But just as important, they need you to greet them with respect, admiration and honor. Make them a meal before they leave. Spend some time getting to know them. It will be a life changing experience. Here is what other civilians say who have done so: Click HERE.
If you do not have a HirePatriots.com website, job board and blog for your community, request one. We will work with you in finding sponsors, volunteers and in getting jobs posted. We will provide business cards, posters and fliers. And we will assist you every step of the way. Our mission is to create a nationwide jobs safety net so that any willing and able US veteran can work today.  It may be a full time job, a temporary job, or a One Day job posted by a local resident. But it will be work and it will help.
Find out more about Patriotic Hearts and our HirePatriots.com program HERE.
Mark Baird
CEO: HirePatriots.com
Chairman: Patriotic Hearts
mark@hirepatriots.com
760-730-3734
People Magazine's Heroes Among Us
Past Chairman: CA Economic Council
Past Secretary: United Veteran Council
From President Bush: The Congressional Medal of Merit
From President Obama: President's Volunteer Service Medal
From San Diego: The Visionary Award for Creating Economic Development
From the Chamber of Commerce: The Extra Mile Award
From ABC TV: The Leadership Award
From U.S. Veterans & Families: Liberty
From Jesus Christ: Purpose & Eternal Life
Share us on