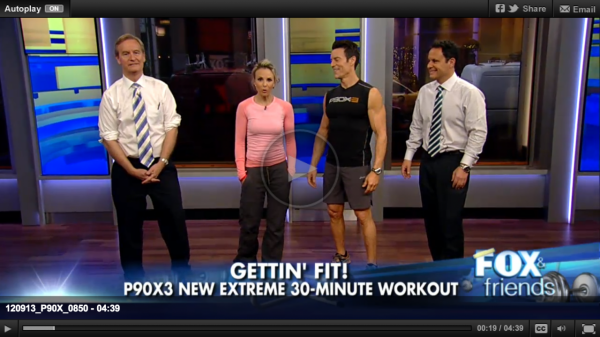 "39 OUT OF 40 OF THOSE IN THE P90X3 TEST GROUP LOST 1/3 OF THEIR BODY WEIGHT IN JUST 30 MINUTES A DAY." TONY HORTON
There's no doubt you've heard of P90X. I'm here to tell you the results are real. I've done P90X myself but I did it to improve my strength and agility rather than lose weight. However, I personally know two people who have lost 230 and 250 pounds with P90X and the included meal plan.
What I, and others, did not like about P90X is the length of the workouts. I don't mind an 60 to 90 minute workout, I just don't always have the time for it. So, it's difficult for most to start and complete P90X. Tony Horton even estimates that there's only about a 10% success rate with P90X or any other in-home or in-gym workout. Most people just don't complete things, let alone start. Part of the reason for that is most people don't have the support and accountability partner they need to get through their chosen program. We have a solution for that too. Keep reading.
P90X3 IS ONLY 30 MINUTES A DAY, 5 DAYS A WEEK.
Tony took the number one excuse away. He created a P90X program that's only 30 minutes in length. Yes, that does make it intense but, as you know, Tony loves modifications. So P90X3 is truly a program for everyone and every fitness level.
"P90X3 is a great introduction to extreme workouts. Many who complete P90X3 will go on to do other extreme workouts." Tony Horton.
HOW DO I GET P90X3 FOR THE BEST VALUE?
Your best bet is to order P90X3 in the Challenge Pack from a Team Beachbody Coach. Chances are you know a Beachbody Coach. However, if you don't know a coach, contact me, I will put you in contact with one of my team members of you may even work directly with me.
YOU WILL NEED SUPPORT AND ACCOUNTABILITY.
When you order any Beachbody workout from those famous infomercials, from Amazon or over the phone, you get assigned a free Team Beachbody Coach who will contact you via email to see what level of assistance you require. When you order from your friend, who's a Team Beachbody Coach, you get a coach who has a vested interest in you because while the Coach is free to you, the Coach does get paid. Plus, 70% of all active Team Beachbody Coaches were customers first. So they know what you're about to go through.
CONTACT YOUR TEAM BEACHBODY COACH TODAY AND GET YOUR P90X3 CHALLENGE PACK TODAY. ORDER BY 15 DEC TO GET YOUR PROGRAM IN TIME FORM CHRISTMAS.
If you don't know a Beachbody Coach, I would be honored to be your Coach. In fact, I will be hosting a P90X3 Challenge that will start 6 January 2014. You can be in this group regardless of your location. We meet on Facebook and other social network sites. It's a lot of fun and very effective way to get even better results.
You can contact me directly or place your orders at the links below.
NOTE: To be in my Challenge Group, either choose the P90X3 Challenge Pack (save $90 in the month of December only) or one of the other kits along with Shakeology. I've proven over the last two years, those who include Shakeology with their workout, have the energy to complete the workout and push play day after day. Those who include Shakeology also have the best results.
Coach Wally Carmichaelwww.HirePatriots.com/Hawaiiwww.TopFitTraining.com
P90X3 CHALLENGE PACK: (Save $90 through December Only.)
http://www.teambeachbody.com/shop/-/shopping/BCPX3205?referringRepId=117734
P90X3 BASE KIT:
http://www.teambeachbody.com/shop/-/shopping/X3Base?referringRepId=117734
P90X3 DELUXE KIT:
http://www.teambeachbody.com/shop/-/shopping/X3Deluxe?referringRepId=117734
P90X3 ULTIMATE KIT:
http://www.teambeachbody.com/shop/-/shopping/X3Ultimate?referringRepId=117734
P90X3 ELITE DVDS:
http://www.teambeachbody.com/shop/-/shopping/X3EliteDVD?referringRepId=117734
Share us on