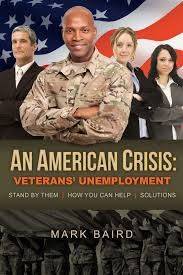 Are you a supporter of Veterans and Veteran causes? We would like to make you aware of a new book written with the purpose of getting Veterans back to work or have the tools needed to start a business.
An American Crisis™: Veterans' Unemployment Stand by Them/How You Can Help/Solutions by Mark Baird offers a comprehensive and permanent solution for US veteran unemployment. There are between 850,000 and 1 million unemployed Veterans. This book is about how businesses and citizens can help considerably reduce that number.
The book is a collaborative effort by some of the leading visionaries and participants to solve this problem. An Army General, an Army Colonel, the president of VetJobs, a chaplain, a Congressional Medal of Merit recipient, a Sergeant Major, a wounded warrior, a military spouse, a Fortune 500 VP, and more contribute insightful and poignant chapters with the purpose of getting veterans back to work expediently, or to assist them in becoming successful entrepreneurs. Twenty-four contributing writers from every branch of our military have provided material for this book.
During its pre-release it attained two separate Amazon Top 100 sales rankings in its genre. The publisher, Inspired Authors Press LLC (IAP) is extending a very special and generous offer to non-profits that work with Veterans. From now to July 4, 2013 IAP will offer the books to Veteran related non-profits for 75% off the retail price of $19.99 which brings the cost to $199.90 per case of 40 plus shipping. For more details contact me or Mel Cohen at 931 593-2484 or mel@inspiredauthorspress.com.
Donation for distributing books may be made to HirePatriots the non-profit I founded. Donations are tax deductible. Please put Book Giveaway in the memo section of your check and we will dedicate the funds for that purpose. The book's website iswww.veteransunemploymentbook.com and the Trailer is http://youtu.be/P0fxxOqx6II?a.
At your service,
Mark Baird
CEO: HirePatriots.com
Chairman: Patriotic Hearts
760-730-3734
People Magazine's Heroes Among Us
Past Chairman: CA Economic Council
Past Secretary: United Veteran Council
From President Bush: The Congressional Medal of Merit
From President Obama: President's Volunteer Service Medal
From San Diego: The Visionary Award for Creating Economic Development
From the Chamber of Commerce: The Extra Mile Award
From ABC TV: The Leadership Award
From U.S. Veterans & Families: Liberty
From Jesus Christ: Purpose & Eternal Life
An American Crisis: Veterans' Unemployment — Stand by Them/ How You Can Help/ Solutions http://amzn.to/Xgvwcp
PS: Amazon Prom June 25-27. Details: www.veteransunemploymentbook.com
Share us on