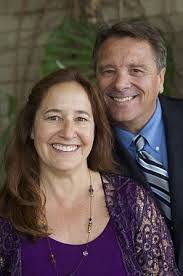 Seeing so many "Support our Troops" stickers after the start of the Iraq war, Tori Baird was inspired to think of ways to help that had not yet been considered. She saw so many young US Marines in her town of Oceanside, next to Camp Pendleton, who often looked so lonely, bored and broke, Something had to be done. So she created a way for the citizens from her city and those of San Diego County to help.
San Diego County has over 250,000 active duty US Marines, sailors, coasties, and soldiers. On top of all of the stress of serving in the military, many also suffer financial hardship. Tori saw Marines walking around downtown everyday. Her heart went out to them. "What could I do to help?" She kept asking herself.
Then one day a Marine Sgt. who had just returned from Iraq, where he had been injured and several buddies died, knocked on Tori's door. He had just returned home, a few doors from hers, and discovered that his wife and two kids were living in a home with no utilities turned on. — His wife had been laid off while he was away but she had not told him. She was afraid the worry might take her husband's mind off of keeping himself and his men alive. — The Marine Sgt. was still in his fatigues. Once he saw his family's need, he took action immediately.
"Ma'am," the sergeant said, when Tori opened her front door. "I need to earn about one hundred dollars today in order to get the utilities turned back on for my family. Is there any work that you need done around your home that I can do for you?" Of course, Tori gave him work and made sure he had enough to pay his electric, gas and cable bill. And she took a warm dinner to his house afterwards.
"How many other Marines do you know that might like to help neighbors like you helped me today in order to earn some extra cash?" She asked  the Marine sergeant.
"Just about every Marine I know!" He replied. – And that is how HirePatriots.com came to be. A website where local citizens hire local US military, veterans and their spouses when they need help with need help with chores and repairs.
Tori Baird's simple but innovative community service program has helped tens of thousands of residents and local US military, veterans and their families in San Diego County. Many of the citizens that have benefitted from her free website are senior citizens living on paltry incomes. And the benefits for citizens and veterans are many. Hundreds of lasting friendships have been created through this program. Now, HirePatriots is present in 41 states.
Tori has also written two books: An American Crisis: Veterans Unemployment, and The Patriotic Business Plan: Strategies for Sensational Success. Both include her vision for creating a nationwide One Day job safety net for our military members, past and present.
Tori Baird has received many honors for her community work, including: From President Bush: The Congressional Medal of Merit; From President Obama: President's Volunteer Service Medal; From San Diego: The Visionary Award for Creating Economic Development; From the Chamber of Commerce: The Extra Mile Award; From ABC TV: The Leadership Award. And PEOPLE Magazine selected her as their Hero Among Us.
Tori Baird has assisted over 50,000 San Diego citizens and as many local US military, veterans and their spouses too. She has made a positive impact on the economy of San Diego. The largest business organization in the county (L.E.A.D.) presented her the "Visionary Award" for "economic development."
Share us on