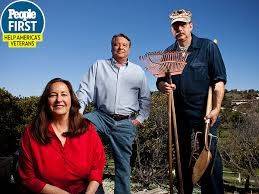 HirePatriots' unique and free program is so popular and successful that I am spreading it across the country. If it were started in your area it would be an immediate success and help not only the troops; but, it will help the entire community and boost local business profits too.   It is also a strategy that is a very powerful asset to any veteran owned or military friendly business. — It has won many prestigious awards. And recently HirePatriots was profiled in PEOPLE Magazine and on NBC Nightly News.
I need a patriotic ally in areas across the country. And it may be something that you, someone you know, or even an organization or business in your locale would  be interested in doing. It is a turnkey veteran outreach, as well as a turnkey marketing and turnkey recruiting strategy.
I have included below a link to another blog on my site that will give you an introduction to how HirePatriots.com helps thousands of US veterans every year, while bolstering communities and businesses too.
Share us on