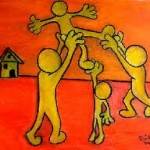 HirePatriots is a nationwide effort to end US veteran unemployment. It involves every community and demographic in America. It has been endorsed by our previous and current US Presidents, Bush and Obama. And this effort has received the Congressional Medal of Merit and the Visionary Award for Creating Economic Development. And PEOPLE magazine has chosen us a their Heroes Among Us!
Our mission is to solve US veteran unemployment. Towards this effort we are creating a nationwide employment safety net across America for US Armed Forces personnel, past and present, and their spouses. We provide communities with their own job boards to hire their local veterans. It has a full time "Careers" job board that is connected to the social networks. And we provide residents with a "One Day" job board to hire their area's veterans when help around homes and yards is needed.
HirePatriots is a program of the 501c3 non-profit, Patriotic Hearts. It provides all of its services for free to US veterans. Other programs include: Vet-Entrepreneur Program, Military Job Fairs, Military Marriage Enrichment Retreats, Disabled Veteran Job Placement, Job Training, Financial Wellness, and Welcome Home Parties.
1. Hire a U.S. Veteran: Businesses and individuals can post full-time positions or day work on the site's job boards. For a Career posting go HERE. For a ONE DAY posting go HERE.
2. Donate. Give $25 to help fund our creation of a Nationwide Job Safety Net for Veterans and the Spouses.
3. Get involved. Start a HirePatriots chapter in your area. Find more information HERE
Contact us: hirepatriots@gmail.com/ 760-730-3734
Mark & Tori Baird
Share us on