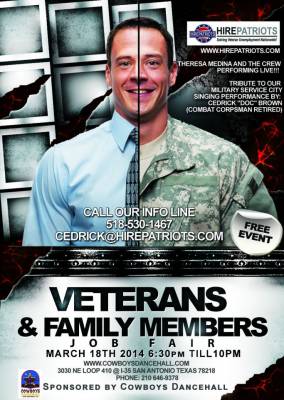 San Antonio HirePatriots Job Fair
Cowboys Dance Hall
March 18
6:30 PM — 10 PM
How about attending a job fair created by US veterans for US veterans? If veterans planned and created their own job fair what would it be like? Here it is:
Our HirePatriots ambassador in San Antonio, Texas is holding a evening job fair for US veterans at the popular Cowboys Dance Hall. It will be a lot of fun. This job fair is being planned especially for the US military and veterans by a 20 year Navy Corpsman. It is being held at the Cowboys Dance Hall: 3030 NE Interstate 410 Loop, San Antonio, TX 78218
All proceeds will benefit charity for finding employment for our Nations Veterans.  100% of all proceeds will go to Patriotic Hearts 501c3  and their veteran jobs program: HirePatriots.com
Here is what you get for attending:
1)    Hundreds of job seeking US veterans
2)    A table (booth) at the event.
3)    Banner on HirePatriots.com (ranked in top 20K US websites)
4)    Free food from some of San Antonio's best restaurants
5)    Beer & Wine
6)    Military Honor Guard performance
7)    Live band and karaoke
8)    Raffle for Samsung Galaxy S4
9)    Raffle for Full Body Massage
    10) Raffle for $500 gift from "The Diamond Supplier" of San Antonio
Companies: Get a booth at this event for $400, receive free food and drinks, and have your company banner displayed on HirePatriots.com one of the most popular web destinations on the Internet for job seeking US veterans. (This is a $2500 value.)
Click this link to Sign Up: HirePatriots San Antonio Job Fair March 18, 2014
Contact: "Doc" Brown 518-530-1467   cedrick@hirepatriots.com  or Tori Baird 760-730-3734
Share us on