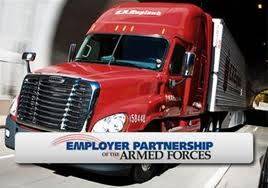 On September 26, HirePatriots is holding a Hiring event at the QLN Conference Center on Avenida Del Oro, in Oceanside, CA for US veterans that want to be truck drivers. We have several major trucking companies that will be attending for the purpose of filling their truck driver positions and more. Some of these companies provide free training for veterans that are not currently licensed as commercial drivers.
Being a truck driver today is one of the most secure jobs in the country. There are currently over 300,000 available positions. Once you are trained, licensed and on the road, you are valued transportation commodity.  The average wage for a trucker starting out is $45K. Most truck companies will also train and hire a trucker's wife too. They can drive the same rig across country. Of course, their combined starting salary would be around $90,000 a year.
HirePatriots.com is hosting this event. They are creating a better way to get veterans hired that will replace ineffective job fairs.  The purpose of HirePatriots' "US Veteran "Work Ready" Hiring Events is to have US veterans walk out of their Hiring events with a job. They will be hosting numerous of these events in San Diego and across the US for various industries: Health, Sales, IT, Security, Manufacturing, Trucking, Oil & Gas, Management, etc.
It is important for interested, job seeking US veterans to register to attend these events early. To make these events attractive to companies and to convince them to bring letters of intent to hire, we promise them several things.
1)      Attending US veterans will have a resume in civilian speak that is customized for the positions for which they are applying. – We have a staff to assist you with this.
2)      Job candidates will have studied the attending companies' websites and have made a thoughtful decision about working for them.
3)      Their mind-sets and personal lives will also be prepared for stable employment.
The venue for this event can only hold 70 Job seekers. Those who have registered and prepared properly will have priority. Register HERE. We will contact you soon after receiving your registration to begin getting you ready to get hired at this event.
At your service,
Mark Baird
Share us on