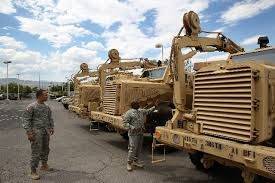 HirePatriots.com is currently focusing on connecting transitioning military truck drivers with the trucking industry because there are so many open positions available to US veterans.
Honoring our returning veterans for their many sacrifices and service is our mission. The most important our US veterans need is immediate sustainable employment.
Currently, the US government is pushing out 1.3 million current active duty military. We are facing another huge round of unemployed US veterans. The trucking industry can help tremendously. This is how:
To accelerate the hiring of these US veterans, HirePatriots is holding Truck Driver Hiring Events. We fill a venue with US veterans that have experience in truck driving. They are prepared and qualified by us before the event. They have studied your company, its positions, benefits, and expectations. They understand the truckers' lifestyle. They want to be truck drivers.
We invite an exclusive company, or a maximum of 5 companies, to attend. They agree to hire some of our attending US veterans if they meet the company's requirements, and if they pass a drug and background check.
We are bringing 50 to 70 pre-prepared career seeking US veterans to the QLN Conference Center on Avenida Del Oro in Oceanside on Friday, September 26.
Does your company have 10 or more current job openings? These veterans are ready and able to start work now!
Limited to 5 Attending Companies
Please register and choose a package from Bronze to Gold HERE.
Proceeds from this event go to Patriotic Hearts, a 501c3 non-profit. Their programs include HirePatriots.com and Military Marriage Retreats. See more programs HERE.
Write me at mark@hirepatriots.com for more information about attending our future truckers hiring events.
Go truckers! Thank you for supporting our troops, when so many have forgotten them already.
Mark Baird
760-730-3734
People Magazine's "Heroes Among Us" 
From President Bush: The Congressional Medal of Merit
From President Obama: President's Volunteer Service Medal
From San Diego: The Visionary Award for Creating Economic Development
From the Chamber of Commerce: The Extra Mile Award
From ABC TV: The Leadership Award
From U.S. Veterans & Families: Liberty
Author: An American Crisis: Veterans' Unemployment
Author: The Patriotic Business Plan: Strategies for Sensational Success
Share us on