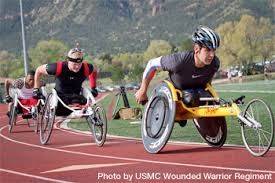 MARINE CORPS TRIALS MARCH 2-13, 2014 CAMP PENDLETON
The San Diego USO is looking for volunteers to assist at the Marine Corp Trials with staffing, serving refreshments, and as aides to our Wounded Warriors participating in Olympic-style competition at Camp Pendleton there are eight different events (e.g. archery, volleyball, marksmanship). The Marine Corps Trials are open to all injured Marines and Sailors who are part of the Wounded Warrior Regiment and include our international allies.
The United States Marine Corps Wounded Warrior Regiment provides and enables assistance to wounded, ill, and injured Marines and Sailors attached to or in support of Marine units. Assistance is also provided to spouses and family members. The family plays an integral part in making the transition easier, for these Wounded Warriors, as they make their comeback journey to duty or return to civilian life.
The Marine Corp Trials are put on by the San Diego USO. This is an excellent volunteer opportunity to serve our community, our Wounded Warriors, and our Country. These heroic men and women have served our country selflessly and have asked for nothing in return: except to serve their country. The Marine Corp Trials, with its Olympic-style competition will sharpen our Wounded Warriors athletic skills and enhance their self-esteem. The top 50 athletes will compete for the "Chairman's Cup" against the Air Force and Army at Colorado Springs in May.
Please join me in volunteering at this year's 2014 Marine Corp Trials. Listed below are the dates and times that we need volunteers.
VOLUNTEERS NEEDED FOR THE FOLLOWING DATES AND SHIFTS
Sunday Mar 2, 10am-2pm (Set-up)      
Monday Mar 3, 9am-4pm (Set-up)           
Tuesday Mar 4, 6am-12pm & 12pm-5pm  
Wednesday Mar 5, 6am-12pm & 12pm-5pm 
Thursday Mar 6, 6am-12pm & 12pm-5pm     
Monday Mar 10, 6am-12pm & 12pm-5pm
Tuesday Mar 11, 6am-12pm & 12pm-5pm.
Wednesday Mar 12, 6am-12pm & 12pm-5pm
Mar 12, 4pm-9pm (Closing Dinner need 25 volunteers)
** We need 16 volunteers per shift**
Share us on