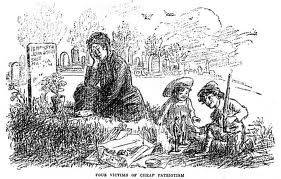 The caption beneath this photo refers to the cost of "cheap patriotism." And the bereft wife and two small children in this drawing apply to what just happened.
A hard working, honest San Diego US Navy veteran that has been profiled in People Magazine has been just evicted from his apartment. Greg, his wife and 3 kids returned from church this morning to find a moving truck pulling away with all of their belongings. "Hey, what's going on?" Greg called out to the driver as he was driving away. "All I know is that we are taking this stuff to a storage locker in Las Vegas." The guy behind the wheel yelled back as he drove down the street with everything they own.
Greg has a son with Luekemia. He life is continually in the balance. He is often rushed to the hospital for emergency care to keep him alive. And those extra bills add up to thousands a month. This month Greg was two weeks late in coming into the rental office to give them a money order for his 3 bedroom apartment. They refused to take his rent check unless he paid the an additional $500 as a "late fee." They might as well have asked for $5000. All Greg could afford was the rent.
He tried to find legal advice. He came to us. We called the County and were told that he must send in his rent by mail whether they accept it or not. But he needs to prove that he tried. Then he has to be served by a Marshall from the Court with eviction papers. After that, he has 3 days to appeal and to get a 30 day extension. The he can go to court and ask for another 60 days. – This would have been assuredly approved because of the medical condition of his son.
But his landlord circumvented the law. When his family went to church this morning, the landlord was watching and waiting. As soon as they left, she had a moving crew clean out the house and take everything more than 100 miles away to another state.
Greg and has family are waiting for him at a local McDonalds as he goes to a One Day job that he has picked up from HirePatriots.com.  They will use that money to stay in a Motel 6 tonight and to buy some burritos from Del Taco. They have no idea of what they will do tomorrow. Everything they owned is gone.
Read People Magazine's Article about Greg and his family: http://www.hirepatriots.com/people-first-initiative-2013
Read about Greg's son, Dillon: http://hirepatriots.com/news-and-blogs/entry/from-a-military-kid-with-leukemia-dilon-erlandso
If you can, please donate something for Greg and his family: http://www.gofundme.com/Help-Greg–Colin
And please help us to spread the word and to get many more One Day jobs posted for our 750,000 unemployed, and for US veterans like Greg who have jobs but do not make enough to even pay rent.
Post One Day Jobs here: http://www.hirepatriots.com/job-boards/day-job-board
Print (and the pass out) posters here: http://www.hirepatriots.com/hirepatriots-media-packages/posters
Share us on