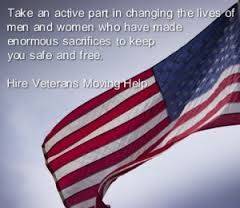 Veterans Moving Help LLC of Gainesville, Florida is a little different than most moving companies, they move clients for free! If you are in the Gainesville, Florida area and need to move but have no or little money call the Veterans to the rescue! Owner Gregory Sledge will provide a truck, two men and moving equipment free of charge!
Mr. Sledge explains "We Veterans have the firm conviction and live our lives knowing that whats really important is caring and doing for others."
We ask "But Mr. Sledge, thats very noble but what about those who will seek to take advantage of your kindness? Some will seek to have you move them for free and pocket their money."
Mr. Sledge smiles "We believe that by doing good for others there is no way we can lose. We are helping a very sweet elderly woman whom is terminally ill get her wish to spend her last days with family by moving her. We have helped a beautiful young lady out of a bad bad domestic violence situation by moving her. Of the donations we receive, we give  10 % to Catholic charities backpack program which feeds local hungry kids who only eat at school. They get a backpack filled with food to last them the weekends.
"The immense satisfaction we get from helping others and the kind donations we receive from our paying customers overshadow the misguided efforts of those who will seek to take advantage."
Veterans Moving Help LLC is hiring Veterans nationwide to perform on call moving labor jobs. These jobs consist of loading and unloading rental trucks and containers. Please visit our website veteransmovinghelp.com or call 888-905-3348. Sorry free moves are only in Gainesville Florida at this time.
Share us on