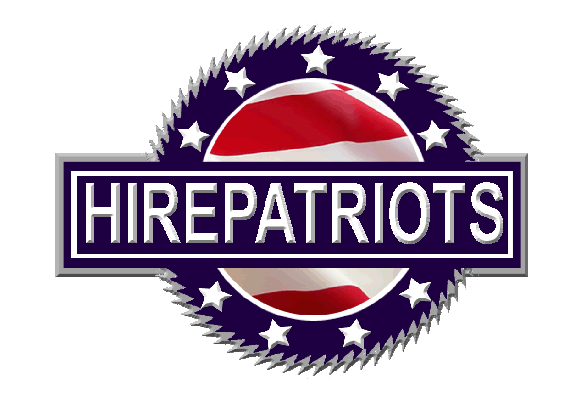 We are creating local, community HirePatriots websites and job boards across America. The purpose of these sites are to build stronger ties with civilians, students and veterans and to increase patriotism nationwide.
We now have HirePatriots sites in 42 states, with some states having sites in multiple communities. The emphasis of these sites are to get residents to hire local US military, veterans and their spouses when they need help with chores and repairs around their homes and yards; and to get businesses in each community to offer veterans sustainable employment.
When we started this in San Diego 10 years ago, we received 40,000 visitors a month! We were voted the Number 1 news story for 2 years in a row. Many thousands of veterans and local residents have been helped in San Diego since, and still are every day. — We are trying to recreate this across America.
I have just completed my second book: The Patriotic Business Plan: Strategies for Sensational Success. It outlines what we did to create HirePatriots and become a national sensation and to be featured in People Magazine and awarded by Presidents Bush and Obama. The purpose of this book is to get my current HirePatriots leaders and their community HirePatriots.com sites up and running and to give those that are yet to come step by step instructions.
There has been interest from school teachers. It is a great community project for students. Teachers see it as a way for students to fulfill their required community service credits. And it is also a great way to connect students, the community and veterans.
We truly believe that HirePatriots' simple solution can and unite our countrymen and make America a far better place. The comments received from those who have used the site are overwhelming evidence that this is true: Read some HERE.
The business plan we have created to spread HirePatriots across America is to ask businesses to sponsor a HirePatriots website in their community. We also work with churches, organizations, schools and patriotic volunteers. We build them a customized HirePatriots website for their community to use that has all of the sponsor's info on the homepage. It is a perfect 'cause marketing' vehicle.
Ultimately, we hope to find a sponsor who sees the immense grassroots marketing value these sites will have for them and fund this project.
Watch this video created by a Texas HirePatriots representative:
 http://hirepatriots.causevox.com/
Mark Baird
760-730-3734
People Magazine's "Heroes Among Us" 
From President Bush: The Congressional Medal of Merit
From President Obama: President's Volunteer Service Medal
From San Diego: The Visionary Award for Creating Economic Development
From the Chamber of Commerce: The Extra Mile Award
From ABC TV: The Leadership Award
From U.S. Veterans & Families: Liberty
From Jesus Christ: Love, Joy & Life
Author: An American Crisis: Veterans' Unemployment
Author: The Patriotic Business Plan: Strategies for Sensational Success
Share us on