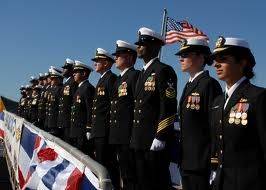 Any individual can be placed in a position of leadership. For example, you can walk down the street, hire the first person with a bachelor's degree and position them in a management role – something I wouldn't recommend – however, placing that person in a position of power doesn't ensure that they will make a good, or even effective leader.
Hiring managers want leaders to hold more than a piece of paper; they want them to be socially influential, charismatic, and most importantly, a leader that can utilize their attributes to bring the parts of the whole together. In other words, the only way to have truly effective leadership is by setting a standard of expectations, leading by those expectations and playing to the strengths of your staff—this just so happens to be the job of every veteran.
A LEARNED BEHAVIOR
First off, you need to realize that management isn't leadership. Good management skills—planning, monitoring, coordinating—are needed in the workplace, but it's still not the same as being a true leader. An easy way to think about this is that a leader's true talent lies in his or her ability to inspire people and bring out their potential; whereas a manager keeps the everyday work flowing.
Don't get me wrong, service members aren't "born" into these roles either. They do, however, spend three to four years being groomed by many different people in order to one day take over those positions. This exposure to different leadership styles helps them first hone their discipline, loyalty and resiliency, making them even higher valued for their leadership and teamwork skills.
It's this combination of management and leadership skills that separate veterans from their civilian peers—a skill set that employers would be wise to take advantage of. When an employer hires a veteran they are hiring someone who can take direction, demonstrate initiative and inspire others to succeed. Veterans have already proven that they are willing to go the extra mile for a profession, so hiring them as leaders will only propel your workforce.
VETERANS FIT THE MOLD
When a human resource administrator looks at a resume they scan for the important details; education, accomplishments and any other quantifiable skills you may hold for a particular job listing. But what about unquantifiable skills they can't see such as integrity, a strong work ethic, natural leadership tendencies or the ability to adapt to changing environments?
These attributes – worth just as much as any official education – are hard to transcribe to a resume, yet they are highly desirable qualities in any employee. These are also just a few of the skills veterans bring to the workplace. That's why recruiters should take into account everything that a veteran brings to the table, and why veterans are perfect for your workforce.
The most important thing to note is that hiring veterans isn't something you should do because of a tax break, nor because you "support the troops." You should hire a veteran because it's just smart business.
Levi Newman is a 10-year U.S. Army veteran who served in multiple overseas deployments and assignments. Levi covers veteran benefits and news as the chief writer behind Veterans United Network and VA Benefit Blog. Connect with Levi on Google+.
Share us on