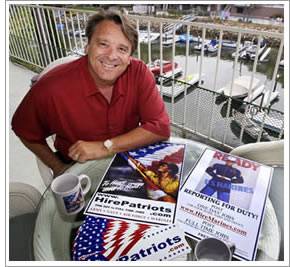 My name is Mark Baird. I have been in the Lord's service for 43 years. In 1971 I became a pastor of at a store front church near a university. I tried to meet all of the many thousands of students, and in that process I met quite a few young Vietnam veterans. They were all different, but they all shared the same wound of having endured combat and its horrors. They trusted me and told me about their experiences, nightmares and pain. My heart opened and God filled it with a deep love for these men and women. This 'calling' to serve US veterans and their families has been mine ever since.
Recently, I gathered two dozen esteemed veteran experts in various fields. We collaborated on a tremendous book: An American Crisis: Veterans' Unemployment — Stand by Them/ How You Can Help/ Solutions. The book begins with a brief history of how I have served veterans in a variety of ways throughout my life and what I am doing now. Then the last chapter of the book is written by my wife Tori. She shares some poignant stories about some of the veterans we have known throughout the years. In between our chapters is great advice for US veteran job seekers, companies seeking to hire them, and for all US citizens.
To read my chapter for free follow this link: http://www.veteransunemploymentbook.com/ — My publisher always has great deals and give-aways so that you can afford to buy a book for yourself and get some as presents for the veterans you know.
Mark Baird
CEO: HirePatriots.com
Chairman: Patriotic Hearts
mark@hirepatriots.com
760-730-3734
People Magazine's Heroes Among Us
Past Chairman: CA Economic Council
Past Secretary: United Veteran Council
From President Bush: The Congressional Medal of Merit
From President Obama: President's Volunteer Service Medal
From San Diego: The Visionary Award for Creating Economic Development
From the Chamber of Commerce: The Extra Mile Award
From ABC TV: The Leadership Award
From U.S. Veterans & Families: Liberty
From Jesus Christ: Purpose & Eternal Life
Share us on