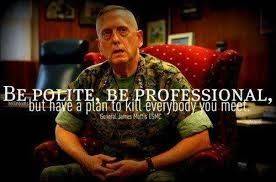 USMC General Mattis' comment is so outrageous that it is funny and makes me laugh, at first. Then, I realize he means it and for good reasons. And I stop laughing.
Google General Mattis and read some more of his quotes. He cuts to the bone so quickly with his plain speech that the sting makes us giggle: then his meaning sinks in. General Mattis is a man that loves America and a man that has spent his life defending and leading men like himself. He deserves the honor of being listened to. Here is a link to his YouTube postings: Click HERE.
I know that no one hates war more than a combat veteran. But someone has to do it. And our US Armed Forces are those exemplary citizens that volunteered to do so!
Imagine if the terrorism happening in the Middle East were happening in your neighborhood. It is our countrymen that are willing to serve in our military and to stand ready for our defense that provides us the safety we know everyday. — Thank them everytime you meet them. They deserve it!
I have never been a "war monger;" but, I have always respected and honored those citizens and aliens that have answered our country's call to duty and been willing to give their lives to protect mine.
P.S. You can also get a free HirePatriots.com website and One Day/ Off Duty job board for your community so that residents can hire your local US military and veterans when they need help with chores and repairs around homes and yards. It allows veterans to earn some extra money. And it is a great way to thank them!
Mark Baird
Share us on