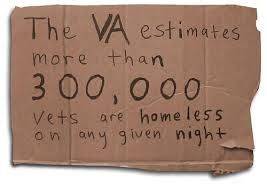 Many of us that care about veteran unemployment and homelessness pitch in during the holidays, at Veteran Shelters and homeless programs. I dig it. love it. I support it.
But what about the day after Thanksgiving?  As we settle in for a long weekend of
football, yummy turkey sandwiches, and way, way, way, too much pie, I worry about the next day.
For many years now, my husband and I have been involved in solving Veteran Unemployment. My first assistant in the early years of HirePatriots.com was a transitioning Marine Sargent. She was also a Marine wife.  Her name was Raelynn.
It was not at all uncommon for Rae to get a weekly call from one of the wives on base worried that there was not enough food in her cupboards for her family. — Hunger on our nations military bases is very real.  Hunger, unemployment and homelessness among US Veteran families is ever expanding.
My husband and I are deeply involved in finding full time jobs for Veterans and their spouses. But there is a gap.  Many entry level jobs cannot possibly pay all the bills.
 It can sometimes take years for a veteran to find sustainable full time employment.
Would you like to be part of the solution?  Would you like to solve veteran unemployment in your town?  You can!
If you dig what we are doing, join us. Pitch in. And if you can, donate to our cause.
Share us on