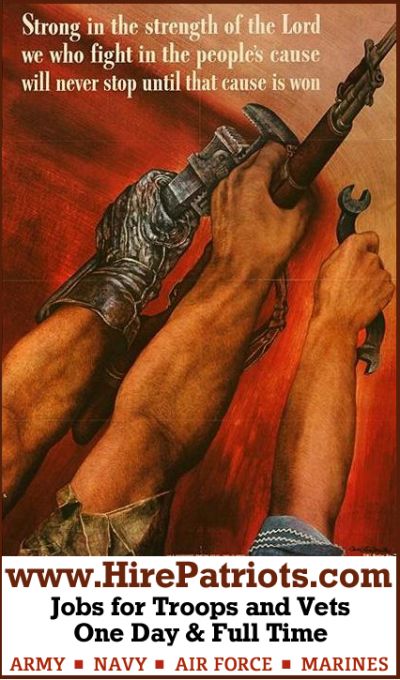 I am writing about a great work that God has done. It is HirePatriots.com: A free website that has become sensationally popular because, in addition to its Career job board, it also has a unique portal for US residents to post jobs for their local US military and veterans who need to earn income to pay bills and to feed their families.
I began this "Helps" ministry when we moved to Oceanside, near Camp Pendleton and a Marine knocked on our door one day. He had just returned from Iraq less than an hour ago. "Sir," he said, standing straight as a board. "My wife got laid off while I was in Iraq. I just got back to my wife and kids and I found out that our utilities have been turned off. – I need to earn about $100 in order to get everything turned back on. – Is there any kind of work that I can do for you today around your home or yard?"
Of course, I helped him. But then I created a free website for the residents to use if they also wanted to hire a Marine or a Marine spouse to help them with chores. – By the end of a year it was getting 10,000 visitors a week! The need was far greater than I knew.
It became a media darling and continues to appear on TV, radio and in the Press regularly. The site also was given San Diego's highest business award: The L.E.A. D. Visionary Award for Creating Economic Development. And both Presidents Bush and Obama have given us medals of achievement too.
By popular demand, we are now in 33 states. And we have a host of  US veterans and their supporters who volunteer to help us all across the country.
HirePatriots is now even more important and critical than when we began. 43% of US veterans transitioning out of the service now are taking more than 3 years to find sustainable employment! – HirePatriots the only organization that is addressing this need directly. We are creating a nation-wide safety net for unemployed and under-employed US veterans and their spouses.
We give companies, churches and organizations their own, customized HirePatriots.com website, with its own, independent URL.  We do this so that they can help us to spread the word within their sphere of influence and help us to get more jobs posted and to help more veterans.  But it also is a great cause marketing platform for them too. – We show them how to get free media, awards, volunteers, government support, social media followers etc. And we show them how to raise funds to expand the program. – Everything is in place.
Do you have any time to talk and see how you can participate in this important patriotic outreach?
P.S. After beginning this employment program, we learned that the divorce rate in the US military runs normally at around 70%; but, that during war time that number jumps to 90%! – And so we informed the San Diego County Supervisors and they gave us a grant to host job fairs and marriage retreats. – We have held 15 job fairs. And we have held 8 Military Marriage Enrichment Retreats, using the "Love & Respect" videos. By God's grace, all of those couples are still together.
At your service,
Mark Baird
CEO HirePatriots.com &
Patriotic Hearts 501 c3 non-profit
Phone: 760-730-3734
Share us on