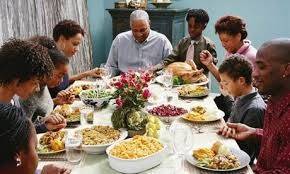 Remembering and recounting our blessings is a very important thing for us to do. Otherwise, we take everything we have for granted. We become ungrateful and brutish.
Imagine how astonishingly thankful our ancestors were who first founded America. Persecuted in Europe, they fled to a land flowing with "milk and honey." They now had the chance to build a new world. They could live in freedom and without fear of punishment for their particular belief in God. They and their families had a magnificent opportunity to establish themselves in a society of their own making.
Looking back at their lives' journey, they could see their Maker's providence guiding them and supplying their needs. So our Pilgrims chose a day to cease from labor and all other activities and interests to dedicate this day to God, in order to sincerely thank Him for his provision and blessings. Of course, they also did this every Lord's Day at the first of each week, at church. But it seemed proper to them to set aside this day to pause and take heed of how richly we are blessed and to thank God for his mercy, and love for us.
Me: I am thankful for still being alive, sane and sober. There were too many years in my life that I was heading the wrong way. I was definitely rushing towards a bad ending. But instead, I turned around and now I have a beautiful, loving wife, who is dedicated to me and my welfare. I have a great ministry that fills my life with daily purpose. I have friends all across the country. And most of all, I have an intimate relationship with Jesus Christ. We walk together every day. — For these things, I am grateful.
Take some time with your family when you sit around the table tomorrow to recount the blessings each have received this year.  Hold hands and thank our Maker, Deliverer, Savior and Lord. Pray for our country's peace and freedom. Pray for those who lead us to be righteous and honest. Pray for the US veterans and their families who endure so many hardships in our place to keep us secure. Pray for your neighbors, especially for the ones you do not like. Bless them. Bless each other. And look to God and bless Him!
Be thankful.
Mark Baird
Share us on