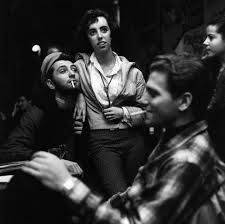 When I Was a 'Beatnik'
"How I Became a Poet"
By Mark Baird
In the 1950s and early 1960s the teenagers and college students that were artistic and anti-establishment were labeled as "Beatniks." They were influenced a lot by growing up during World War II, French philosophy and music, Existentialism, jazz and poetry. Ezra Pound, Ginsburg, Camus, Sarte, and Kerouac, were some of their literary heroes. They would congregate in coffee houses, cafes, on steps of colleges, libraries, museums and on the grass in parks. Or they would find an abandoned building and meet there.
A particularly common building they occupied was one that electricity and modern refrigerators had made obsolete, the corner ice house: Solid brick buildings with no windows, and a solid metal door. Every town and city had them. Inside were stacks of large ice blocks that people would purchase and then put inside their "ice boxes" at home to keep their food cold.
In Laguna Beach, on the corner of Thalia and the Coast Hwy. there was an abandoned gas station with a brick ice house in the corner of the lot. Some local beatniks turned it into a meeting place. They put up tables and chairs, plastered walls with poems, fliers, announcements and posters. And since these houses had no electricity, there were candles on every table and along the walls.
I often walked by this hangout as a pubescent teen. The people going in out of this ice house looked different than anyone else. The men almost always had goatee beards, shaggy hair and wore dark sunglasses. The girls looked wild. They rode motorcycles, smoked cigarettes continuously and seemed like very intense and passionate people. Not scary really, just so bursting full of youthful idealism and energy that they might explode.
Sometimes I swerved off of the side walk and walked across the lot and past the open front door  to peer inside. Sometimes I could see someone reading poetry while others played bongo drums, beat on tables and played guitars in accompaniment. When they finished, there was usually a lot of loud hooting and hollering.
I got to meet and know one of these beatniks. His name was Larry. He was wounded in WW II, when just 19. He then developed a heroin habit from killing his pain. He was a tall man with sunken cheeks and a bony body. He had a full, scraggily beard, always wore wire rimmed dark glasses and slumped his shoulders and kept his head down as if to say, "leave me alone." Larry was a quiet person. He lived down the street from me with his mother. I think he received a disability check from the V.A. every month. We would pass eachother walking to or from our homes sometimes. He intrigued me and I would try to engage him in conversation. Despite his dour looks, he turned out to be quite friendly. He seemed glad for my intrusion into his silence. Maybe it was because I was just a kid.
"I remember asking him once why he had the number 13 tattooed on his arm. "It stands for the thirteenth letter of the alphabet, "M", he replied. "So what does "M" stand for?" I inquired. "Mary Jane," Larry told me. "Oh is she your girlfriend?" I assumed. "No, Man," haven't you ever heard of marijuana?" – No. I had not, until then. That is another thing that beatniks enjoyed, smoking "grass" rolled up as cigarettes in what they called "reefers."
In the 6th grade one day, our teacher gave us the assignment to write a poem. I had never thought of doing so before. But the idea stimulated me now, because I knew it was something that Larry and his friends liked to do. I was inspired, and suddenly an entire four stanza poem just came to me. I can't remember any of it now. But it was about beans. Yes, just beans. But it was written with irony and humor that I did not know I possessed. It was definitely my first kiss by the Muse.
I read the poem to Larry. "Way out, man. I dig it!" he exclaimed. "You should come down to our pad at the ice house and read it." And one day shortly after his invitation I did.
I was determined to do it, even though I was frightened. Something inside propelled me, despite my dry mouth, trembling legs and rapidly beating heart. I was elated with the creativity that had come out of me. It was a precious thing that my mind had birthed. I was its proud father. I had to share it with others.
The inside of the place was pitch dark except for a few flickering candles, until my eyes adjusted and I could see figures of people sitting at tables and standing around. There was a powerful smell too: stale beer, cigarettes, sweat and "grass." Everyone was at least ten years older than I was. They all stared at me when I just walked to the back of the tiny place and stood facing them with my back against a wall.
Right away I heard, "Hey, man! What are you doing here? Kids can't come in here. Get out!" and things like that. I stood frozen for a minute and then I blurted out, "Larry told me to come and read my poem to you!" Then they all froze for a moment. I think maybe Larry had told some of them about me. Suddenly, everything was cool. "Read on, man." They agreed in chorus.
Their applause, encouragement and slaps on my back afterwards probably changed my life. I began reading and writing poetry everyday afterwards. I read often at their ice house. Then I began reading at school assemblies, and sometimes in bars and cafes.  Our local newspaper began publishing my poems regularly. I became somewhat famous in my small town. I referred to myself as "Poet-boy, America!" I continued doing this, even travelling up and down my state and reading until I got married and had to find real job and to earn a lot more money than being a poet. I still dabble occasionally. And now that my years on earth are growing fewer, I am writing some of my special memories down, like this one.
(This memory is dedicated to my son, Saxon Baird, and his beautiful wife, Madeline, who are both writers too.)
Share us on