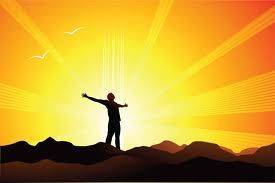 Belief in God and Jesus Christ has always been the foundation of my life. I encountered God in a dramatic way when I was very young. Some discount my experience and tell me that I was too young for it to have been as significant that I claim it to be. But they are wrong. It was then and remains the focal point of my entire life.
My parents never attended church or a synagogue. I was never encouraged to believe in God. In fact, my home life was filled with terror due to extreme alcoholism and the resulting insanity that it causes. And by the time I was a young teenager, I left my 'home' for good. I hit the road. Otherwise, I would have probably not survived and been killed by my father, as his alcoholic dementia grew to become very violent. – Perhaps that is why the Creator brought me into his presence and knowledge of himself when he did. I have thought back hundreds of times to this episode throughout my life and wondered about it. I am convinced that it was an especially loving and merciful gesture by my heavenly father. He became a real presence and friend and confidant almost from the awakening of my consciousness.
The First Baptist Church in Santa Ana, CA in 1954 began services early on Sunday morning and they lasted until afternoon. My parents used this as free daycare on Sundays. Before I entered Kindergarten, I was attending Sunday school in the basement of this church.  All I remember is that another teacher came and shared one morning. I have no recollection of what was said. But I can still recall being struck as if by lightening when the teacher finished and was about to leave. I ran to her and held on with all of my might. I was crying "I want Jesus! I want Jesus!"
Of course she and my teacher were alarmed and concerned. But I clearly recall that guest teacher taking me into the hallway and to a small alcove where she had me invite Jesus into my heart and my life forever. My life changed from that very moment. I was born again. God's spirit indwelt me right then and there. And I have heard the whispering of the Holy Spirit's voice ever since. But that is not to say that I was a perfect boy growing up that never sinned, or that I am sinless now. But I have always felt an inner conviction and disturbance whenever I do something that violates God's will. I know when I am guilty and need to confess and repent.
The Bible was actually the first book I read by myself. We had an old and weathered Bible in the house. It had a section in its middle for children that gave a pictorial history of the Old and New Testaments. It was like a 100 page Godly comic book. Beneath each picture was a description of what scriptural truth and meaning it portrayed. That was my initial reading primer. And as my reading ability developed, I naturally began reading the real stories in the Bible. Their fascination to me has never diminished. I still read the Bible daily and it is never redundant or boring. New beauty, wisdom and truth are revealed to me everytime I open its pages.
When I was a young boy we lived in a huge and ever expanding tract of stucco homes. Every fourth house was the exact model as all the others. Every home and yard was the same, except for the paint and flowers. Almost every adult male had just served in WW II or the Korean War. Heavy drinking and violence were common then.  And it carried over into my elementary school. The number one thing for every boy to do was to fist fight and wrestle.  As far back as my memory stretches I can recall getting punched in the nose and bleeding. And there was a ranking of the best fighters in the neighborhood by grade level. I was near the top. And I got thrown out of school, Y-Indian Guides and the Boy Scouts because I thought it was just natural to punch people. It wasn't until the 6th grade when too many boys had outgrown me that I came to the conclusion that fighting was something I should begin avoiding.
But my instinctual combativeness has never diminished. And it still gets me in trouble. It grates against people and causes them to be uncomfortable and sometimes to even dislike me. Throughout my life, wherever I go, people spontaneously give me the nickname "Animal!" Many have told me throughout my life that I am 'too intense.' And undoubtedly they are right because I have been told this too often for them all to be wrong. But I cannot change the innate personality with which I was born, eventhough I tried for decades to do so. I have learned like the comic character Popeye the sailor man: "I am what I am." It is now obvious to me that God created my personality to fulfill my particular purpose.
But this instinctual behavior grew more and more dangerous as I entered high school at 5'6 105 lbs. Wisely, I switched from contact sports to learning how to run really fast. I joined the Cross Country team and became its captain when I was a sophomore. My teammates complained that I was 'too competitive.' They hated me for making them work so hard, especially when the coach wasn't watching. Most of them resisted and just jogged together in a pack, even in race events. They had no desire to excel and win. This confounded me then and still does. I cannot understand why anyone would bother to do anything unless they are going to try their very best.
The greatest joy of my life has been when I help others. I chose to become a school teacher because I wanted to help children be successful. I was a youth coach for a half a dozen sports for 30 years because children need the opportunity to learn what sports can teach.  I began pastoring when I was 20 because I cared about my generation, comprised of Vietnam veterans or Hippies. They were all looking for truth, purpose and the divine. And by now, I am certain that the reason I was born was to be a "Helps" minister.
I am now 62. I never thought that I would live to be this old. Not because I believed I would die, but because I was convinced that I would be 'raptured.' The Bible states that in the 'last days,' before the judgments of God are poured upon the earth and its ungodly inhabitants, those who truly believe in God will be rescued and taken into heaven. Our bodies will change from what they are into heavenly bodies in a 'twinkling of an eye." — 1 Corinthians 15:51-53 — King James Version (KJV) 51 Behold, I show you a mystery; We shall not all sleep, but we shall all be changed, 52 In a moment, in the twinkling of an eye, at the last trump: for the trumpet shall sound, and the dead shall be raised incorruptible, and we shall be changed.53 For this corruptible must put on incorruption, and this mortal must put on immortality.
Throughout the Bible the nation and people of Israel is the centerpiece. It clearly says how the Jewish people will be scattered and persecuted. But it also says that in the last days God will gather them once again into a nation. This happened 2000 years after Jesus' resurrection, in 1948. Jesus gives this event as a sign for us to know that mankind's rule of the earth is about to end, and that God's presence on earth and his rule is about to begin. Jesus promised that generation that is alive when this 'regathering into a nation' occurs will not pass away until he returns again.
It may take more than a hundred years before the last person remaining in that 1948 generation passes away.  And if the Lord waits that long, I will be 98. I don't even want to live that long, and almost certainly won't.  So I will probably get to heaven the same way as all believers since Adam, when this body dies.  Yet, he also says that that day will surprise us so…
But in the meantime, I am still competing for the ultimate prize, to live on a 'new earth' with God forever. I am still running my race. I continue to push myself to the limits of my potential. I focus on being a better servant to God and to those he loves.
The 'calling' God has given me is to especially serve US veterans and their families. I founded Patriotic Hearts, a 501c3 non-profit for this purpose. The mission I am endeavoring to fulfill right now is to create a nationwide employment safety net for US veterans. Every US veteran that is willing and able to work should be able to do so. And that is what my HirePatriots.com program is seeking to achieve.
I am submitted to God's will for my life. I am at his service. And that means that I must also serve others. Because as Jesus states: "The greatest among you will be the servant of all." God is love and the children of God are commanded to love and serve everyone, believers and unbelievers alike.
Mark Baird
Share us on