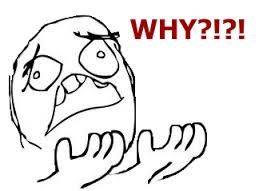 Sometimes I do not understand why life can be so hard and hurtful, and I ask in confusion and consternation, "Where are you, God?!"
I believe in a creator of all existence. It is the only thing that makes sense to me. Where else did all this come from? And when people say that "everything just evolved," they never answer the question: Where did the stuff that all things evolve from come from? Something cannot come from nothing.
The God I believe in is the Judeo-Christian God of the Bible. I was not raised to believe in him. But of all the gods, heavens, theologies and major religions of the world I have read about the God of Jesus Christ is the only one that I want anything to do with.
So I am a Christian. I believe that the Father, Son and Holy Spirit created all existence. And I believe that Jesus Christ came down from heaven to die on the cross and to pay the penalty of everyone's sins who believe in him. And I believe he conquered death and lives to return to earth again at the 'end of this age." I look forward to an eternity on a New Earth where God lives among us. We will practice war no more and the "lion will lay down with the lamb."
But when bad things happen to me, my wife or my ministry (HirePatriots.com) my faith is put to the test. Often, life seems to be much harder than it needs to be. It seems to contradict the hundreds of claims in the Bible about how much God loves me. It says that "the Lord is my shepherd, I shall not want." It says, God will provide everything I need, that He watches over me constantly and that he "prepares a path before me."
No, I do not understand why so much hardship can come into a believing and faithful Christian's life. But that does not mean that I no longer believe in God. Instead, it is a challenge to my faith and a test to see if I will hold tightly to him anyway.
Bad things happen to everyone, regardless of our faith or non-faith, or whether we are good or bad. God does not exempt us from being like everyone else on earth in this regard. Instead, he uses those times to give us an opportunity to have more faith, to "grow in Christ."
Too, when I go through very rough periods I think of the millions of Christians who are far worse off than I and yet still believe. And I think of the prophets and the apostles. All of them had extremely hard lives and they all died gruesome deaths without losing faith.
So in the end, I am left still confused; but, I continue to believe anyway. And I guess that is why when I see Jesus the Bible says he will welcome me with these words, "Well done, my good and faithful servant!"
Mark Baird
Share us on