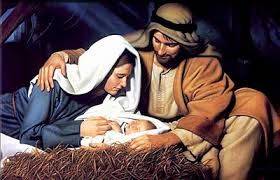 This is the Story of Christmas:
Many years before Jesus Christ was born prophets spoke of his coming. The Old Testament is filled with promises of the "Son of God" becoming a "Son of man" and stepping down from his throne in heaven to dwell among us. About 2014 years ago that event happened. "God in the flesh" issued forth from a virgin named Mary. Once his body had grown and he became a man he proved that he was the "Messiah" by fulfilling hundreds of specific prophecies, and by healing the blind, the lame, the diseased, and raising the dead. No other man has ever done the things that Jesus did, before or since.
The prophecies speak about God coming to the earth and becoming the King of the entire world. He will govern with righteousness and justice. He will bring peace and make all wars cease. He will turn the world into a Garden of Eden. The "lion will lay down with the lamb and a child will lead them." Of course, we have not yet seen those things. Why?
There are two divergent types of prophecies about the "Son of Man."  The other set is about God being "the suffering servant" who will "die for the sins of the world." "For God so loved the world that he gave his only begotten Son so that anyone who believes in Him will have eternal life." — The scriptures say that he will "conquer death once and for all" and that when his "children" leave this mortal body that they immediately go to where God is in heaven and receive an eternal body.
Ever since Christ hung on the cross and paid the price for setting us free from being judged for our sins, all of his followers have been waiting expectantly for his return and reign. We have waited a long time. The Bible says that is because "God is patient and not willing that any should perish, but that all would be saved." However, this extended time of grace is quickly nearing the end. Jesus Christ is coming soon! We should all get ready for his appearing.
When a person truly accepts Jesus Christ as their savior an amazing and wonderful thing happens: God places his Holy Spirit within them. His spirit becomes like a seed that begins growing within us, if we nurture it every day with prayer, fellowship, reading the bible, doing good, and loving others.
This is why we celebrate Christmas: God has come to earth to save us. He will return and he will right all wrongs and replenish the earth. Jesus Christ will "dwell among us and wipe the tears from our eyes. Sorrow and death will disappear."
What Joy! How happy we all should be. Even though this world is often so dark and full of suffering and pain, there will be an end to it soon. We have Hope. We have Light. We have the Way. — God has come to the earth to be our savior. He has rescued us from being punished for our sins by taking our place and being punished for us. Those who believe and accept this divine gift become the "Children of God" and are promised that they will receive "eternal life."
Celebrate Christmas!
Mark Baird
Share us on