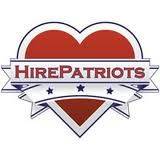 There are many thousands of full time job boards. But there is just one that offers a free One Day job board for residents to hire local US veterans: HirePatriots.com.
HirePatriots is a community project that helps seniors, residents, businesses, students and veterans. It stimulates the local economies. And it promotes patriotism and respect for US veterans. HirePatriots has won many prestigious honors and recognition. It has helped tens of thousands of US veterans since it began in 2005. And now it has 37 states that have local chapters. HirePatriots.com is an entirely unique website and job board.
HirePatriots has created the missing piece to solving US veteran unemployment. There will never be enough sustainable jobs for every job seeking US veteran. But HirePatriots has proven that by enlisting the help of US residents and providing them with their own, local HirePatriots site and job board that virtually every willing and able US veteran can work and earn money everyday.
HirePatriots needs funds to create these HirePatriots chapters throughout the United States. We provide these sites for free to communities, particularly those near active duty military bases. We provide a self managed HirePatriots website, blog and local job board. We provide an independent web address for their site. We provide customized posters, fliers biz cards and banners. We develop volunteers and train them how to talk about HirePatriots at schools, chambers, clubs and on TV, radio and press. We then hold fundraisers and provide additional assistance to their local veterans. We provide job fairs, marriage retreats, welcome home parties, transitional seminars and financial management and budgeting seminars. And we create an educational and community service program for local school children.
Benefits of HirePatriots' One Day Job Board:
1.     Helps US active duty military
2.     Helps US National Guard & Reserves
3.     Helps transitioned US veterans, past and present.
4.     Helps US veteran spouses
5.     Helps US veteran families
6.     Helps Senior citizens by providing affordable help with chores and repairs
7.     Provides a way for US citizens to participate in the employment of US veterans
8.     Provides customized local HirePatriots sites, job boards and blog for communities across the US
9.     Provides full time and part time income for US veterans
10.  Provides affordable care taking for elderly citizens
11.  Provides school children educational tool via their own HirePatriots website, job board and blog.
12.  Provides school children community service activities
13.  Stimulates local economies (Visionary Award)
14.  Stimulates Patriotism and respect for US veterans
15.  Assists US veterans re-entry into civilian life
16.  Assists wounded warriors: HirePatriots' One Day jobs are often the first jobs that wounded warriors take before developing the confidence to take full time employment.
17.  Hosts 3 day marriage retreats for US veterans
18.  Hosts job fairs for veterans
19.  Hosts transitional assistance classes in person and online for US veterans
20.  Hosts financial management and budget classes in person and online for US veterans
Please become a sponsor or make a donation to help us spread HirePatriots all across America and provide a permanent jobs safety net for our US veterans.
Donate here: http://hirepatriots.com/idonate
In His service,
Mark Baird
CEO: HirePatriots.com
Chairman: Patriotic Hearts
mark@hirepatriots.com
760-730-3734
People Magazine's Heroes Among Us
Past Chairman: CA Economic Council
Past Secretary: United Veteran Council
From President Bush: The Congressional Medal of Merit
From President Obama: President's Volunteer Service Medal
From San Diego: The Visionary Award for Creating Economic Development
From the Chamber of Commerce: The Extra Mile Award
From ABC TV: The Leadership Award
From U.S. Veterans & Families: Liberty
From Jesus Christ: Purpose & Eternal Life
An American Crisis: Veterans' Unemployment — Stand by Them/ How You Can Help/ Solutions
http://amzn.to/Xgvwcp
Share us on