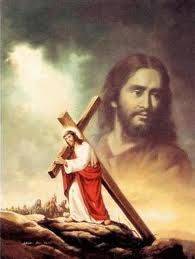 I am a Christian. My parents weren't. I was not raised to be one. I made this choice. And I have had multiple occasions throughout my life when I had to make the decision again to believe or not.
I believe in the God of the bible for many reasons. Mostly because the Judeo-Christian God is the friendliest and most loving God offered among our world's religions. Christianity basically says that no one can ever be good enough to earn the right to live eternally with God. It says that compared to his holiness, "all of our righteous deeds are like filthy rags." So what did God do about this?
God wants our pride and ego to be broken. He wants us to become humble and to realize that the only way we can make it to heaven is through his mercy. Jesus began his famous 'Sermon on the Mount' with these words, "Blessed are the humble in spirit, for theirs is the kingdom of God."
The bible refers to Jesus as the "mighty God. The everlasting Father." It says that Jesus is "God in the flesh." His primary mission for coming to earth was to show us how much God loves us, so that we can trust him and love him with all of our heart. He healed the sick, brought sight to the blind, made the lame walk, and even raised the dead to prove who he was. But throughout his ministry here he always spoke about his dying on a cross. Why?
This takes some understanding about God's righteousness. He constructed the universe with laws. Everything fits and works together because of these immutable laws. For instance, if gravity failed, we would all float into space. The same principle applies to moral laws too. If we break God's moral laws there are consequences. That cause and effect is severe because holiness and unrighteousness cannot co-habit in heaven. Therefore, we cannot live eternally with God. The bible says that the result of sin is death, physically and spiritually.  But God in his love and wisdom, overcame this obstacle for us.
God in the flesh came to earth, born of a virgin, to take the punishment for our sins upon himself. As a human being, he paid the price for all of mankind's sins. He died in our place upon his cross. That is why Jesus' last words upon that cross were "The debt has now been fully paid!"
Because of that act of God, we all now can have peace with God. Our efforts to follow, trust and obey God can now be rewarded with eternal life. All of our sins are now "washed away." Jesus says, "Though your sins be as red as scarlet, I will make them as white as snow!"
There is some confusion among people that Christians believe that we can sin willfully now, because we are forgiven. This is a lie! And the bible says that the Devil is the "father of all lies." Christians have not been set free from having to obey God's laws, just the opposite. Now that we have eternal life, our natural reaction and obligation is to love God! That is why Jesus says "Those who truly love me, obey my commandments." And the bible says that anyone who does not seek to follow Christ's example is "deceiving himself in thinking that he is saved."
I sin. I get angry. Sometimes, I may even swear if mad enough. Just like you, I have the same temptations and weaknesses. I have lied, lusted, argued, and dwelled on thoughts I should not have in my life. I have sinned innumerable times, no doubt. But I have also earnestly sought to 'repent,' to stop doing those things. I fail to be good when I try by my own self effort. I am always good when I walk in God's spirit, instead. But the key point is, I know that I have eternal life because I truly believe that Jesus Christ is God; and I trust in what he did for me on the cross. – I am not earning my salvation. I am receiving it as a gift from God, while I continue to spiritually mature and become more like him.
No other religion's God is like this. I would not want to believe in or follow any of those other gods. They are cruel and severe creations of man's imagination.
I live my life to serve my creator. Like a child's joy when it does something that causes their father to be happy and proud, I find my fulfillment in pleasing Jesus. He is my all in all.
Mark Baird
Share us on