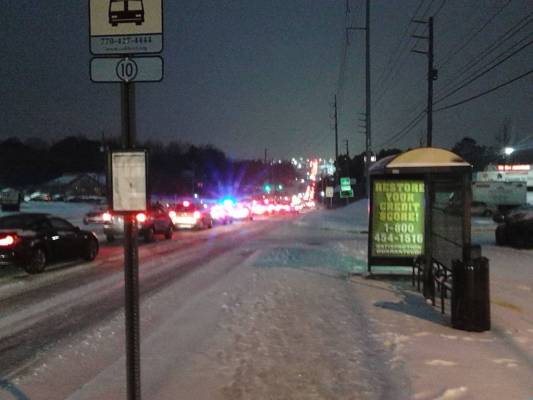 The day started out normal enough. I left home around 6:30AM to go to work. I didn't feel great about this since it was my wife's birthday and my team had accepted a contract to do some marketing work at Emory and Georgia Tech for the Economist Magazine. I'm a writer but have been making ends meet as a brand manager for various brand launches. This was the final day of the contract for this particular job. A few hours getting the word out, then I'd be back home with my wife and one-year-old son to celebrate.
After a few hours I mosied through very light flurries and retrieved my car from the $3 lot close to Tech's campus. The next 7 hours would prove to be an experience I will never forget. But wait, let's rewind for a sec. A few days ago I remember my wife telling that the 5 day forecast mentioned "snow flurries" early in the week. We thought nothing of this since "snow flurries" in Atlanta usually means a few sparse flakes, unnessecarily panicked motorists, and obnoxious FB memes about the city's drivers. We even joked about how similar Atlantans in a little snow are to Southern California in a little rain. Little did I know that by 6:30PM I would be traversing on foot the murderously icy hills of Cobb Parkway in 4 inches of snow and 20 degree weather.
Before I left the comfort of my car, the hours between 12:15PM and 5:30PM were spent in bumper to bumper traffic between downtown Atlanta and Marietta. My smartphone maps application showed me that all of the highway routes were crimson red with dozens upon dozens of reported traffic incidents. The map it showed looked like some photoshopped prank picture we see so often on social media. But as I crossed a bridge downtown overlooking the highway I realized that the map was chillingly accurate. I-75/85 was literally a parking lot. I could see people out of their cars tending to fender benders every few hundred yards or so. The scene was very Walking Dead-esque. The freeway was obviously out of the question.
After I made the decision to stick to Atlanta's few navigable surface streets, I was only a half hour into my Odyssian journey. Everyone read Homer's Odyssey in high school right? For the next few hours many futile attempts were made to go where the traffic wasn't. I would drive an empty icy backroad only to be confronted with a line of cars at the end of it. It felt like a dangerous adventure book from my childhood. You know, choose A, B, or C once the jack-knifed 18 wheeler is spinning out in both lanes. I dodged sliding minivans, witnessed sobbing 20-somethings, road rage, at least 4 accidents right next to me, 2 flipped cars, and a couple schoolbuses full of children hopelessly stalled at the bottom of ice covered hills. I also saw some amazing things; A man in a mechanic's coverall was rescuing stuck car after stuck car with his miracle wooden board. There was a woman with a huge Afro honking at the folks beside her just to wave and smile. A family of 6 in an SUV hopped out to play in the snow on a nearby hill for a half hour. All they were missing was a sled.
I did my best to remain positive, laugh with some of my equally high-spirited moto-neighbors, and keep out-thinking the traffic. Around hour 5 the full bladder and hunger pangs started to catch up with me. Out-thinking the traffic was not going so well. I had faught my way from downtown through Vinings and now sat on Cobb parkway just 6 miles from home. So close, yet so very far away. There was a Subway in the large shopping center to my right with a cluster of cars in front. Everything else must have been abandoned hours before since all of the parking spaces showed not even an inch of pavement. I decided to get a bite to eat, relieve myself, and resume the homeward efforts to my land of Ithaka. I had travelled too far and faught too many Cyclopses, sirens, and witches to "pull over and wait it out" as the radio hosts were suggesting. Would they have given the same advice to Odysseus as he fought to get home to his wife and son?
When I left the shopping center parking lot and re-entered the Cobb parkway parking lot there sat the same group of idling cars as when I left about 45 minutes earlier. It was strange to me because I could have sworn I saw traffic moving while inside Subway. A winter mirage? These cars had not moved 10 feet. Before the sandwich excursion, my wife half-jokingly suggested that I ditch the car in a parking lot and run home. She got the idea from my brother-in-law in Sandy Springs who decided to park his car and walk 3 miles to his apartment. It would be 5 miles for me negotiating Cobb parkway's hilly terrain. Why not? I happened to be wearing my running shoes and I had just published a fitness eBook earlier in the month. Time to live my work right? Running home should have been part of the plan all along. The decision had been made. I would run the entire distance home. I parked in the deserted Cobb Galleria Business Center deck, recorded a short video to commemorate the occassion, launched my Nike+ app and started the final leg of the journey.
Oh the sights I saw. Every single intersection (about 10) was fully blocked in all directions. There was a professionally dressed graying man beating on the hood of a young woman's SUV for being one of the dozen cars blocking people from entering Cobb from 285. One man would not stop flooring his luxury car's gas pedal as it slipped on the ice until it finally lurched forward and slammed into the car in front of him. I ran by at least 30 people walking in each direction. Some of them were laughing and having conversations and some were silent as if they were part of some forced exodus to no-man's land. A couple in a pick-up offered me a ride in their truck bed as they sat stuck behind a thousand idling and abandoned vehicles. "No thanks."
As I ran up then down the snowy hills I realized that I was enjoying this immensely. I was not cold. Nothing felt unpleasant about this at all. To be honest, a 5 mile run is not even the greatest of challenges in and of itself to a frequent runner. The snow, the cold, and the steep hills made it a bit more lofty. I had ample time to reflect on many things. The sound of my shoes on the snow and ice along with the sound of my breath became a sort of mantra. The run became an hour-long meditation. I walked into the warmth of our home and the arms of my family a proud man. Sometimes making ourselves proud is all we need. I was proud that I made the decision to challenge myself. I was proud of the decision I made to make it home at a decent hour to be with my little family on my wife's birthday. But most of all I was proud that I had the presence of mind to turn these unforseen circumstances life often saddles us with into personal triumph. Cheers to you doing the same the very next time the opportunity arises.
See original CNN article HERE.
Share us on