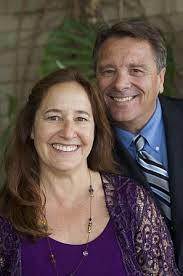 My dear wife, Tori, has been my closest friend and constant ally since we first met. It was "love at first sight." I walked into her store and she greeted me wearing a beautiful, long floral dress from her store. She was blonde, 5' 1" and 120 lbs. And her smile was the most beautiful I had ever seen. – Her countenance, like a powerful vacuum, sucked my heart out of my chest and enveloped it within hers.
We both lived in Laguna Beach. I was a school teacher and coach. And I managed the hotel at night, where Tori lived. – I discovered this after we had met in her store, below the hotel. – One morning her hot water did not work and she knocked on my door, frustrated and upset. — When I opened the door, there was the girl who had stolen my heart a few days before.
Our first date was at the Fun Zone in Balboa. I paid the Ferris Wheel operator to stop us at the top for a few minutes, so we could have our first kiss, overlooking the Newport Harbor at night. Our next kiss was at her door later that evening. I'll never forget either. And I will never stop coming back for more.
She quickly learned about all of my foibles, my temper and my eccentricities. But they just made her love me more. And so it was easy to trust her. And I have found that trust is a never ending journey. As we grow closer in love with eachother with each passing year, our complete trust in eachother also deepens.
She helped me to raise my middle son, Saxon; and then I saw her love, adore and raise our son, Sam. I envied them. Nearly every day, I said to myself, "I wish I had grown up with a mom who loved me like that."
She helped me coach all of the youth sports our sons were involved in. She was also a Boy Scout Den mother. Whatever our sons did, we did it with them.
She has mothered me when I have been ill. Been patient through my tantrums, put her foot down when I crossed the line, loved me when I did not love myself, and reassured me every day how she is mine until the end of eternity.
Tori and I have been grafted together like two trees that become one. We are inseparable. We share all of our joys and sorrows. We thank God for and celebrate our Oneness constantly.
We have enjoyed the high life, and we have endured hardships and suffering. But Tori always remains the same through every phase of our lives. – She lives for my happiness and our sons.' This is her joy.
The most important thing that Tori has done for me is to teach me the love of God. I am much closer to Him because of her example of selfless love and forgiveness. – I am always reassured that if she can still love me so much after 20+ years, then God must be able to love and forgive me too.
Of all men, I am the most blessed. No woman has ever been born who was more perfectly matched with me than my dearest bride. No one else could have brought me such contentment, fulfillment and a daily passion for life.
Thank you Tori, as you turn 27 for the 24th time. And thank you Lord Jesus for blessing me with such a wonderful, beautiful woman to share this life with me, and the one to come.
Mark loves Tori!
Share us on