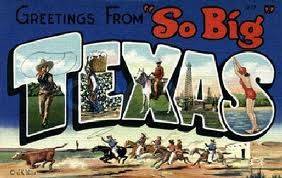 The purpose of this blog post is to encourage job seeking US veterans to move to Texas. HirePatriots is working with multiple companies in Texas that eagerly want to hire America's former military. But here in California it is often difficult to convince them to move. For instance, there is a company in Houston, Texas that wants to hire 50 US veterans immediately to drive cement trucks. The average salary is $60,000+. — US veterans should take a serious look at this opportunity and make that move.
Here are some great reasons:
It's cheaper: Texas has the highest 'effective' pay check in the country. The cost of living in Texas is very low: consumer prices, utilities, transport costs and, most importantly, housing prices. People in Texas have a better shot at getting some of the things associated with middle-class life.
Median household income: Texas: $53,046 vs. California: $29,634
Jobs: "The main reason people go is for employment. It's pretty simple, the oil and gas boom has helped turn Texas into an economic juggernaut. Growth has also been strong in tech, manufacturing and business services
Homes: Strict lending rules helped to shield the state from the recent housing market crash. Median value of owner-occupied housing units.
Median home price: Texas: $128,000 –vs. California: $380,000
Low tax: Texas is one of only seven states where residents pay no personal state income tax,
Family Friendly: Considered the most "family friendly" state in the union, largely because of their great schools. Texan colleges also have a very low cost to attend.
Texans aren't leaving the state. It is the "stickiest" state in the country. It seems that once you move there, you want to stay there.
101 Reason to live in Texas: http://www.buzzfeed.com/ashleyperez/reasons-you-should-live-in-texas#1wz60e5
If you want to take that cement driving job in Texas, or any job in Texas, let me know and I will hook you up.
Mark Baird
760-730-3734
Share us on