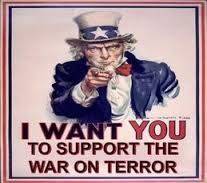 9/11, Today & Tomorrow
On September 11, 2001 the United States suffered 4 coordinated attacks by Islamic terrorists. It was a Tuesday that must be remembered. It is no less of a seminal event in U.S. history than December 7, 1941, when Japan bombed Pearl Harbor.
The Islamic radicals, which are far more prevalent now than then, targeted the White House, the Pentagon and the Two Towers of the World Trade Center. The attempt upon Washington D.C. was thwarted by the brave passengers who forced that plane to crash. All died in that heroic effort. – This attack claimed the lives of nearly 3,000 people (more than Pearl Harbor) and cost billions in damage. This included the death of 343 firefighters and 72 NYC police officers.
Osama Bin Laden and Al Qaeda claimed responsibility for these attacks.  He and his top leaders have all been hunted down and killed or imprisoned by US troops since, in Iraq, Afghanistan, Pakistan and multiple other hiding places.
Now ISIS and its sub-groups have taken the lead in this attack by Islamic fanatics, whose most passionate desire is to kill us all. They are rapists, murderers, torturers, haters of freedom, killers of: children, Jews, Christians, women, fathers, and anyone who will not bow to their domination and radical religious beliefs. — Do not be deluded in pretending that this is not true.
September 11 should be the most important date for all Americans to remember at this critical point in our history. This war is not nearly over! If we do not persist and endure in this valiant and noble struggle, we are fools.
It is absolutely critical that every American show honor and appreciation to our military veterans and their families: more now than since World War Two. We are resisting an equally evil and resolute opponent, dedicated to nothing less than our entire annihilation.
The American youth that were impassioned by this attack, that offered their lives as a defense for the rest of us; who left their homes and families, children, moms, and loved ones in a stalwart response of bravery, especially those that gave their lives, must be held in high esteem and as examples of true patriots. –We will not win this war if we fail to honor those that protect everything we have and hold dear. – This will also inspire our youth that follow them: those who aspire to being fellow heroes and defenders of America and the cause of worldwide freedom!
Mark Baird
On this September 11, in San Diego, at the Military Events Center Across from MCAS Miramar, a US Marine Air Station, HirePatriots.com is hosting its Annual 9/11 Job Fair and Business Expo in order to thank and support our US veterans that have stood in harm's way for us. — Please attend. For more information, click HERE.
Share us on