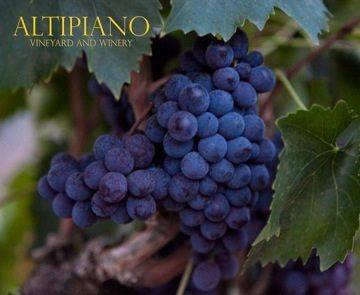 Job Description:  Agriculture Assistant, Salary Range $1,666-$2,000 per month – Full Time
Like to work outdoors and get your hands dirty?  Interested in learning many of the rewarding aspects in the cultivation and maintenance of a successful vineyard and winery?  Altipiano Vineyard and Winery has an exciting opportunity for a full time Agricultural Assistant to work onsite 7:00am-4:00pm Monday-Friday in their beautiful location in Highland Valley located above San Pasqual Valley's San Diego Wild Animal Park next to Escondido, CA.   We are a small boutique family owned and operated vineyard and winery.  Our vineyard was planted in June 2008 with 3600 Italian varietals.
Assist in everyday agricultural functions at the winery, vineyard and farm grounds to include but not limited to pruning, harvesting, fermentation maintenance, barrel and tank maintenance, general labor and small construction projects, assisting with bottling, capsuling, labeling, grounds upkeep, animal caretaking, landscaping, tasting room upkeep and maintaining a high level of cleanliness in all work areas.
Qualifications: Must possess a strong work ethic and be detail oriented.  Have a valid driver's license and be 21 years of age or older due to this being a bonded and licensed vineyard and winery.   Must have the ability to follow simple to complex instructions and see task(s) to completion.  The right candidate has a love of the outdoors, eagerness to learn and be trained in many facets of vineyard and winery operations.  On-the-job training will be provided.
Denise L. Clarke
Co-Owner/Vintner
Altipiano Vineyard and Winery
20365 Camino Del Aguila
Escondido, CA 92025
Website:  http://www.altipianovineyard.com/
denise@altipianovineyard.com
Share us on