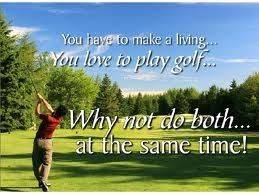 If you love golf then you will love this!
US Military and Veterans,
Regardless of your age or your job situation, I have got to introduce you to this: If I were not called to the ministry and to serve US veterans full time, this is what I'd be doing. It will bring me great vicarious pleasure to know that I had a hand in letting you know about this great opportunity and getting you involved.
A few days ago the Director of The Gold Academy of America, Richard Iorio, contacted me. He invited me to his huge campus in Carlsbad, CA. We spoke for an hour. Rich wants to let US military and veterans know about his school; so do I, after talking with him.
Do you like to play golf? Would you like to spend your career at beautiful gold courses? Would you like to know and assist great golfers, young and old? Would you like to have the opportunity to develop yourself and become the Director of one of the top golf courses and tournaments in the world? – If this sounds like a dream come true then you need to check this out. The Golf Academy of America. They appreciate the sacrifices of our America's US veterans. They want to give you all that they have to bless your life with a great career and the happiness you deserve.
GOLF ACADEMY OF AMERICA IN SAN DIEGO
The San Diego area is home to Golf Academy of America. With 70 miles of coastline, 33 beaches and much more, this sportsman's paradise is an excellent place to train for a golf career and play lots of golf!
YOU'LL PLAY GREAT GOLF COURSES
San Diego-area courses like these are the scene for weekly open play and tournament play: La Costa Resort, Aviara Resort, The Grand, Maderas Golf Club, Vista Valley Country Club, Aliso Viejo Country Club, The Crosby Golf Club and many others.
YOU'LL LEARN SKILLS THE GOLF INDUSTRY NEEDS
Golf Academy of America in San Diego teaches what the golf industry is searching for: an understanding of the business of golf, from player development to course management. Classes, labs and practical, hands-on training prepare students — in golf instruction, club fitting, course management, tournament administration and other golf operations skills — focusing on improving players' understanding and performance of the game.
EVERYTHING IS INCLUDED IN YOUR TUITION
Led by PGA Professional instructors, Golf Academy of America in San Diego offers an associate's degree in Golf Complex Operations and Management that most students complete in 16 months. The tuition includes:
Unlimited range balls
Unlimited private instruction
Access to top training technology such as Dynamic Balance System, K-VEST, MEGSA, SAM PuttLab, TrackMan Pro, V1 Video Analysis Software and more
Weekly open play and tournament play
Career Services team to help graduates find golf jobs
Professional network of alumni, PGA Pros, golf employers and industry insiders
If golf is your passion, take the next step and start making it your career! Complete the Request More Information form above!
FINANCIAL AID
At Golf Academy of America, our financial planning team members are experts at helping you determine how to pay for your golf course management degree. Grants, loans and other forms of assistance may be available to help you pay for Golf College. Our goal is to help you find the right combination of financial aid that allows you pay for golf school but incur the least amount of debt possible. Military veterans, active service personnel, guardsmen, reservists or military family members have special financial aid options, and our Military Student Center staff is here to help guide you. We know you are anxious to get started on your golf career, and we are here to help.
With my most sincere endorsement. I hope that this is for you.
Mark Baird
P.S. Check out these great videos on YouTube about this tremendous school:
https://www.youtube.com/results?search_query=golf+academy+of+America
Richard Iorio, PGA, B.A.
Campus Director
Golf Academy of America in San Diego
1950 Camino Vida Roble, Ste. 125
Carlsbad, CA 92008
direct 760.458.8210 | ext 4003 | cell 760.458.8210 | fax 760.734.1642
richard.iorio@golfacademy.edu | www.golfacademy.edu | Facebook | Twitter | YouTube | Instagram
Share us on