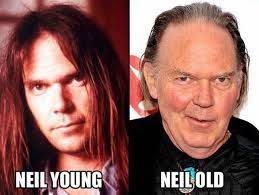 The one great advantage that older people have over younger ones is perspective. We have already been young. As the saying goes: "Been there. Done that."Our viewpoint gives us a certain amount of wisdom unavailable to any younger generation. However, what Youth has are passion and ideals. We both share a certain dose of both perceptivity and zeal; but, not in the same measure.
Ironically, a common developmental attitude that occurs when young is that of being superior in knowledge and disdainful of parents and figures of authority. Often they have little or no regard for the labors and sacrifices of their elders. Hence, young people also are usually judgmental. They measure others to a standard of virtue and behavior that only the young think they possess.
In the parable that Jesus tells about the men who wanted to stone a woman for adultery, he asks for the one who 'has no sin'  to throw the first stone. The story concludes with it saying, "And they all departed, beginning from the oldest to the youngest." – The last one to leave, the "youngest", took longer than the rest to admit that he was a sinner too.
Getting older wears us down. Our burdens and responsibilities become heavier than we could have imagined when younger. There never seems to be enough time anymore to have the carefree fun we once did. There are things to be done. There are more people in our lives that require attention, at home, at work and day to day. We are busy. In the midst of all that, we screw up, we drop the ball, we forget, we are irresponsible, we make mistakes, we fail, we hurt others, we don't live up to our youthful ideals. The Apostle Paul said it like this: "I don't really understand myself, for I want to do what is right, but I don't do it. Instead, I do what I hate." – Young people cannot comprehend this. It is a sign of getting older when one does.
Everyone has flaws that they need to work on. I know that I speak and act too harshly at times. I am getting better at it. I was born with an innate emphasis on having rules and respect, too much so. Dealing with others who have the opposite tendency is problematic. I sometimes break my rules and act disrespectfully while in the act of insisting for people to follow them. Like the Apostle Paul, I mean to do 'good' but I do 'bad,' instead. – If you can identify with this then you are officially "old."
Share us on